Since I find these posts so helpful that I have actually directed my clients to
other
photographers what to wear posts, I thought it was time I did some of my very own!
Let's start with what to wear for a fall session shall we?
These sessions are typically outside, either in a park or yard with sunshine and gorgeous fall foliage so the general look is causal and comfortable yet still coordinated.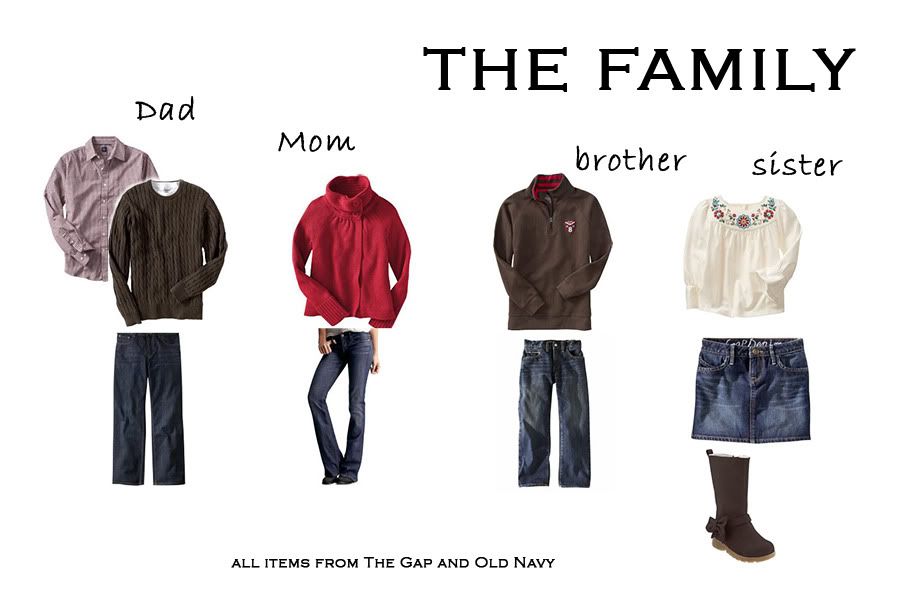 For this family, I started with mom because we all know that if mom is not happy, no one is happy. I chose a cropped sweater coat in a cheerful cherry color and added some flattering dark jeans. Causal and Fall like, yet sophisticated.
Next up, the kids. I went with jeans and brown, white and red accents to tie in with mom and stuck with mostly solid colors. I also kept in mind how each outfit would look for individual shots and went with a skirt for the sister to vary things up a bit for coordinated but not identical outfits.
And finally dad. A shirt that ties in with red in mom's outfit and a brown sweater. Since we all know dad's most important role is to make mom look good!
Now for some sibling inspiration...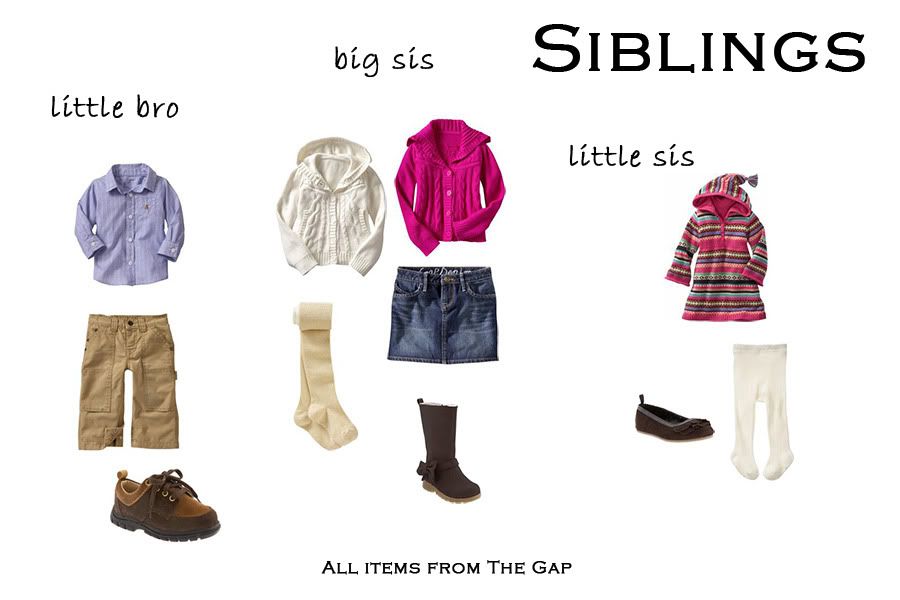 I love chunky sweaters for fall, so I gave big sis two options here. The raspberry is generally a very flattering color and looks great with fall foliage. The cream is a more classic option and is sure to look good on a holiday card and in black & white images. The jean skirt and boots keep things comfortable and causal.
For little brother I went with a classic blue shirt that is dressed up without being too formal or uncomfortable. Plus there is just something I love about little boys in button downs! A solid color polo shirt or sweater would also work well here.
For little sis, I went with a colorful sweater dress that ties in with the colors in brother and sister's outfits. For a more classic look, little sis and big sis could wear matching sweaters.
Again, I thought about how all three outfits would work together and how they would photograph individually and limited the bold pattern to the smallest child so it would not be overwhelming in the group shots.
And finally, keep in mind that these are simply suggestions meant to help get you started. In the end, your family photo should be a reflection of your family and your unique style.
Next up, some more formal holiday looks!